ILA Podcast #14: John Goodwillie: Young Socialists, Socialist Labour Alliance, SWM, Socialist Labour Party, Gralton magazine and the Green Party November 2, 2020
Posted by Aonrud ⚘ in Irish Left Online Document Archive, Uncategorized.
trackback
In this episode we talk to John Goodwillie. John is a long-time political activist, who has been involved in a number of progressive parties and organisations. He was a member of Labour in the 1960s and belonged to the Young Socialists, Socialist Labour Action Group and subsequent Socialist Labour Alliance. He was involved with the Socialist Workers' Movement (SWM) in the 1970s, and joined the Socialist Labour Party (SLP) when the SWM merged with that party as a tendency, and remained on the National Executive until the SLP's dissolution.
John was on the editorial board of Gralton magazine. He has also participated in a number of campaign groups, including the Dublin Clean Seas Group, the Campaign for Nuclear Disarmament (CND) – on the executive of which John served in various roles – and the National Lesbian and Gay Federation. Since 1990 he has been a member of the Green Party, and was the party's candidate in Dublin South Central for Dáil and local elections through the 1990s. He has been involved in policy formation and served as Secretary of the Party's Policy Council.
We discuss the history of Irish Left organisations since the 1960s and John's own political trajectory: from Labour in the 1960s, through organisations seeking to form a party of the Left. We also discuss Gralton magazine and John's political activity in the 1980s and in the Greens since 1990.
John created a 'family tree of the left' diagram, which provided an overview of the splits, merges and relationships between organisations on the Irish Left, printed in Gralton in 1983. It was an online copy of this which inspired the creation of the Timeline of the Irish Left on our own website – John's diagram gave us a starting basis for it, and we are indebted to John both for that and for subsequent suggestions and corrections to the initial version.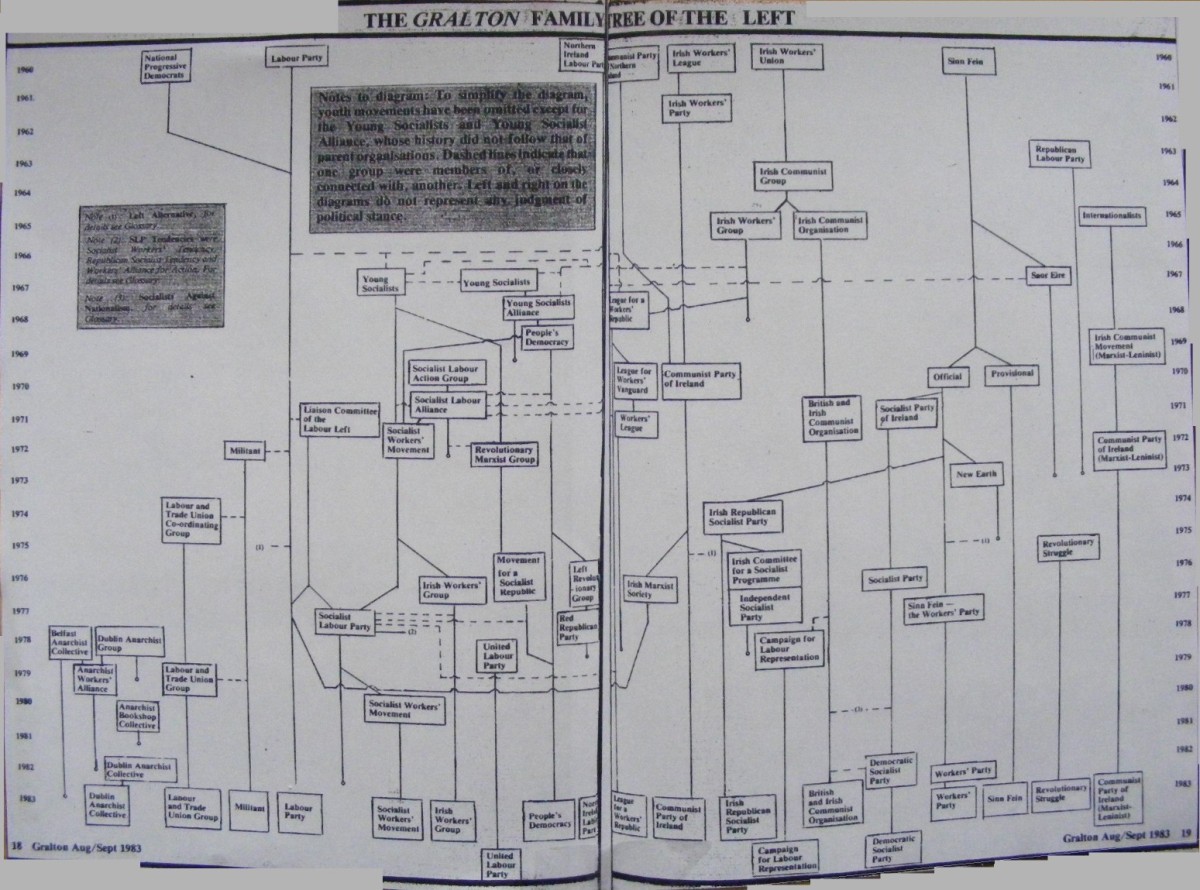 Some materials in the archive may be of interest to listeners in the context of the discussion.
From the fourth issue of The Worker, the aims of the Socialist Workers' Movement (SWM):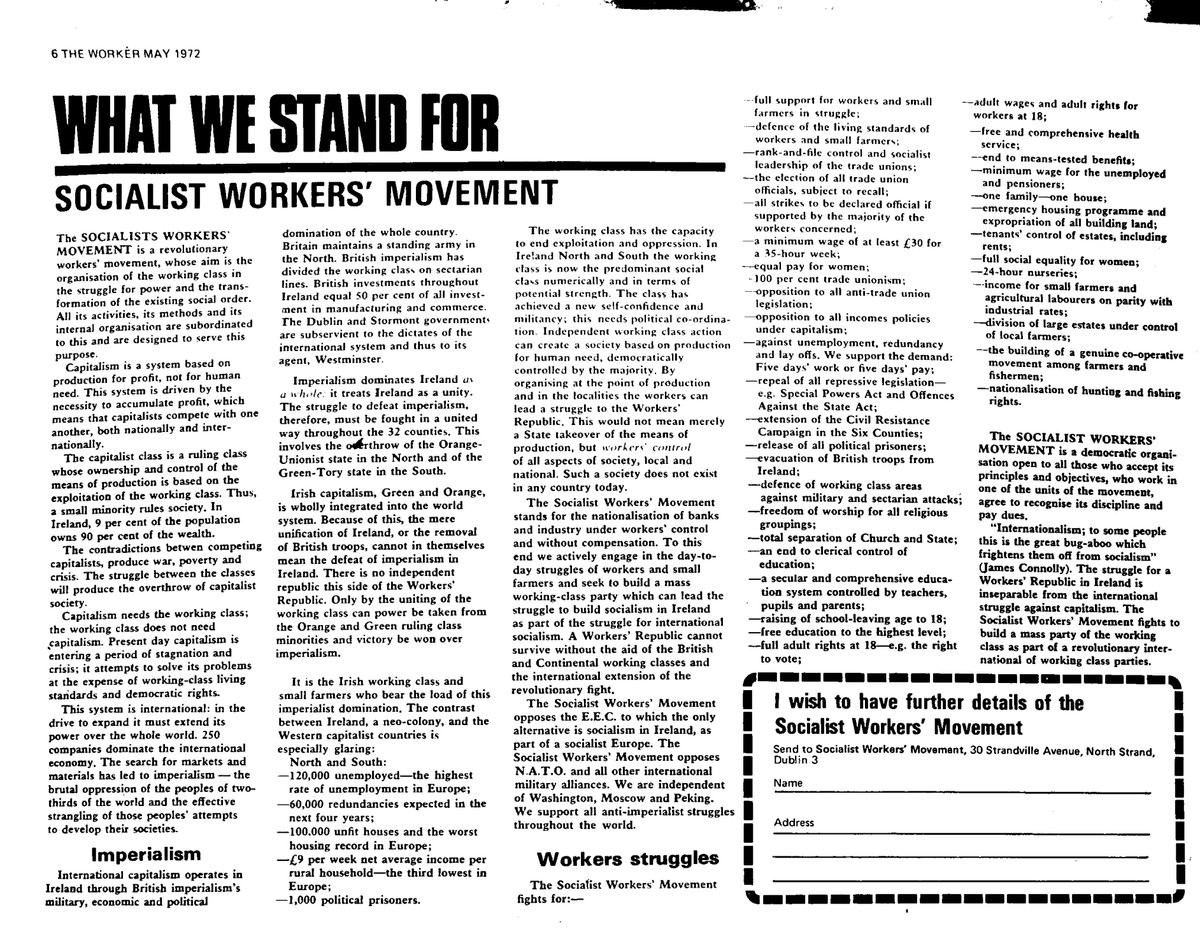 The Fintan Lalor branch of the Labour party mentioned in the podcast was expelled in 1971. Listeners may be interested in this article from Labour News Bulletin announcing the expulsion: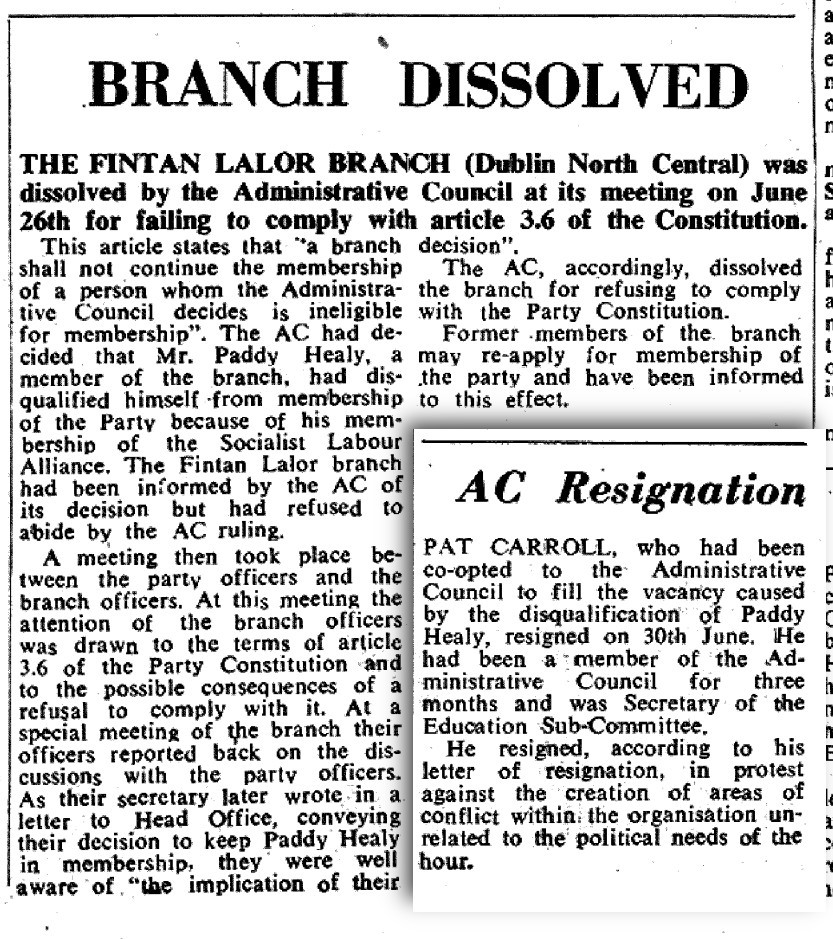 Gralton magazine was published in 1982-83. This is the first issue of the magazine: Gralton, No. 1 .
---
If you're enjoying the podcast, please subscribe. If you use a podcast app, it should come up in most of them if you search for "Irish Left Archive Podcast", or use one of the links below.